So,
 I just finished "Human Diastrophism" last night. Yes, I know, my reviews are very far and in between, but this is because I just can't bare to rush through a book. I want to slowly devour it - rushing through a good read is the worst thing you can do. Trust me dear Reader – do not fall into that trap! Savour the books you love, fore you can't go back and read it again as if you haven't – you have, and that first time can never be given back to you.  
The second book in the series is very different to "Heartbreak soup." It's more fast paced, more intense, and not so focused on the history or the day to day dramas of Palomar. Not every character gets a say in "HD" like they did in "HS" I guess this is due to the fact that the main story, which is named after the book itself, and makes up a third of this L&R collection, is about a serial killer on loose in the town, and monkeys wreaking havoc, jumping into windows, onto people's faces, etc etc. Therefore, it is more like a murder mystery than an epic family drama like "Heartbreak soup" seemed to be.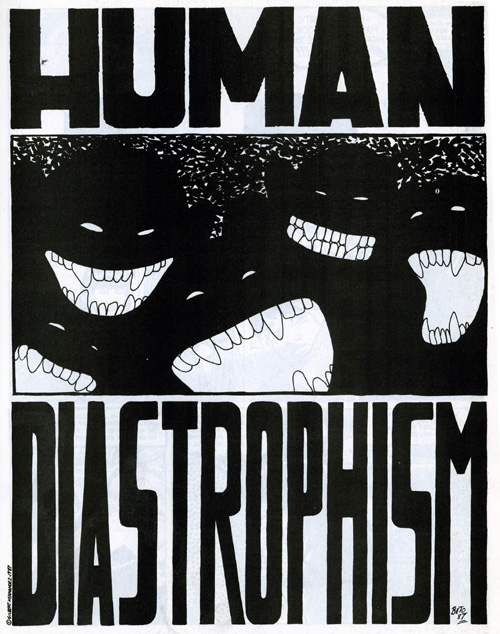 But, "Human Diastrophism" isn't just about the murder, there are 'mini' stories running through the main one – just like any murder mystery should have. These stories are much more like those in "Heartbreak soup", like Tonantzin becoming politically active, Maricela's love affair and realisation of her sexuality with Riri and Humberto's confusion over his passion for art.  One of the main 'mini' stories within is Luba loosing control of her children. The first few pages of "HD" really highlight the fact that there is trouble between her brood and herself. Her eldest, Maricela, is turning against her, wishing her dead (though she did wish for her mother 'Never to come back' when she fell down the well in "Heartbreak Soup" she it's not really a revelation there!) - which leads into a great analysis of who the father of each of her children are. This is a secret in which she has kept not only from everyone in Palomar, but from her children as well. It is the heartbreaking story of the break up of her family, due to her insecurities, that really stood out for me in "Human Diastrophism." I guess the wheels are set in motion when Khamo, the man who is the father to two of her girls, and the love of Luba's life, comes back into Palomar. She quickly dumps Archie, and begins a small love affair with him, and that is where the trouble beings.
Luba's story throughout the story "Human Diastrophism" is extremely interesting, as it really does show her inner insecurities, and the way in which her world works. Therefore, in this post, I shall look at the ways in which Luba is portrayed.
Luba really does go through a lot in "Human Diastrophism." Her decisions and actions are mainly quite selfish and this is due to factors that I will bring up later on.  When Hernandez fast forwards time, about ten or so years into the future, in "Goodbye my Palomar" she seems to have softened somewhat. I guess she is left heartbroken when most of her older daughters have abandoned her to make a new life in America. It could also be because she is now married, and a big part of her life is obviously controlled by how much attention and love she receives from the opposite sex.
It's sad how much sex does play a role in Luba's life. She needs it to feel in control, and she uses it to gain control over others.
At the beginning of the tale, she is still with Archie as she was in "Heartbreak soup." That is until the father of two of her children, and the love of her life, Khamo, reappears and she of course, continues on her affair with him. All is well, and Luba isn't screaming at her kids so much seeing as she's back together with her dream man, but of course, all doesn't last, and she realises that her man prefers the company of younger women like Pipo and Tonantzin.
When Archie rejects her advances, she decides to 'seduce' young Humberto, a boy confused by the world around him who tries to fight Lubas advances off as much as he can. Yes, she pretty much rapes the poor boy, and though she thinks she will feel better afterwards, she obviously doesn't feel the level of euphoria that she believed 'seducing' a young man will bring to her. Therefore, she turns to Borro, a disgusting man who has treated her like an object and lusted over her publicly for years, and who Luba obviously thinks will bring her some form of confidence after such a big blow from Khamo. However, after she lets him have his way with her (don't you love it how I'm trying to put it oh so politely?!) she plays the sympathy card, talking about how her body is falling apart, etc etc in order for Borro to boost her ego up a bit. This doesn't occur of course, and Luba once again has her ego
shattered by yet another man.
I can understand, with Luba placing such a big emphasis on the attention she receives from men, how she could feel pretty low after four men pretty much reject her. Though she loves sex, she obviously doesn't love the responsibility of being a Mother, as is seen at the beginning of "HD", where it states she has regrets about having children. Luba, feeling so low (and obviously, by what she tells Borro, she also feel quite old as well) really does a disturbing and selfish thing – she brings each of her children to their respective fathers and leaves them there. This is a shock, as she has not told anyone who the father of each of her children are, and when Khamo receives Casimira and Doralis, he looks at them in disgust and hands them over to the nearest female and then abruptly walks off. I believe that Luba does this to her children for a number of reasons, but the main one being that she wishes the men
who made her pregnant to stand up and take responsibility. She blames her children in a way for how her life has turned out, and she probably feels that she can't really deal with being a Mother right now. I guess we all have those moments of utter despair, and when they occur, sometimes we do and say things that aren't exactly what we really want, but we do them anyway because it's the only way we feel like we can stay in control.  
It's true that she isn't the best Mother, she has no idea that her eldest daughter is a lesbian, and she screams and hollers at all her brood so much that in a horrifying panel we see the innocent Casimira pretending to be her Mother by screaming and bashing a toy doll.
She doesn't ever seem that motherly, and it is Ofelia that is relieved when the children are brought back home by Archie.
The only thing that finally makes Luba go back to her children is when she finally beds a man, who just happens to be Tomaso, the man who everyone is after as he has tried to kill a few people in Palomar. Tomaso, though it is not shown, must play to Luba's ego, as she is next seen cuddling her children, and acting like she does actually care about her daughter skipping town and being safe from the 'mysterious' serial killer.  
I originally thought that Luba was just being a bitch, but once I really sat down and analysed why she was going around screwing everything with three legs in sight, my Uni days came back to me, and I began to actually think about the character in a deeper sense. To me, having studied feminism at Uni, I believe that Luba is, a Female chauvinist Pig. Ariel Levy coined the term in 2006, and after reading her book of the same name, I realised that a lot of women in the public eye (think Paris Hilton, Kim Kardashian, etc) were in fact Female chauvinist Pigs (including a few of my friends!!) Here is a quote that pretty much sums it up, from her website,
" If Male Chauvinist Pigs were men who regarded women as pieces of meat, we would outdo them and be Female Chauvinist Pigs: women who make sex objects of other women and of ourselves."
Luba uses her sexuality to get what she wants, and in doing so, makes herself into an 'object' instead of a woman that others can look up to (including her children, who are surprisingly, all girls) She needs to feel sexually wanted by men in order for her self-esteem to be high enough for her to be able to look after her children and to be a part of the Palomar society. Even when Chelo asks her to be the Mayor of Palomar, Luba brings sex back into the mix by focusing on the fact that a lot of the towns people believe she's a whore.
I believe what Hernandez is trying to get at with Luba is the ways in which a woman can feel when they are seen as mainly a sexual object. Luba wasn't born a Female chauvinist Pig, she was taught to be one by the way she is treated due to the fact that yes, she does have large breasts, and yes, she is pretty. Instead of trying to get people to see beyond those attributes, she plays up to them, and that is what makes her, in this story at least, a Female chauvinist Pig.
Beyond "Human Diastrophism"
Luba in "Farewell my Palomar" is not as present as in "Human Diastrophism." The story is more about her mother, and her two half sisters (one, Fritz, who has a lisp and looks a lot like her half sister, I think is just adorable!) but it does show Luba's anguish over her past, and Ofelia finally gets her wish, and sees Luba cry. This panel pretty much sums up how Ofelia feels about not having seen Luba cry. It's pretty amazing when Luba does end up crying, as Ofelia's long suffering back problems end up vanishing. Ofelia says, whilst swinging in a hammock, "I still carry the weight of you all on my back and I don't feel a bit of pain any more! Luba cried! She's alive! My baby cousin is alive!" I guess, in a way, Luba has come to terms with part of her past, as she accepts Gorgo into her community, and does not shun him like she first insisted that she would.
The first thing I actually noticed in the subsequent stories that involved Luba was the way in which her children are hiding things from her, including a pregnancy, and where they actually are located in the US. To me, this shows the damage which was done in "HD" wasn't rectified, and that her children still haven't forgiven her for the way in which she told them about their fathers. As Luba says to Khamo, in tears, "I didn't tell my girls Maricela and Guadalupe who their fathers were till they were older…Why didn't I tell them right away?" As they are the two girls who have fled from her, it is obvious that Luba knows that she has made some big mistakes in regards to how she has treated the subject of the girls fathers. Another thing in which Luba says to Guadalupe is very interesting. When Guadalupe mentions Maricela, Luba says, "You're referring to some ghost from the past and dwelling on the past in the surest way to get yourself stuck there." Yet, it is obviously Luba's past which encourages her to do the things she does, and feels the things that she does.  This past is shown in the next L&R Palomar collection, "Beyond Palomar" which I am currently reading at the moment, and it does give a great insight into the multi-dimensional woman that is Luba.
So, there you have it folks! It took me a few weeks to write, but I finally got it down for y'all! I will do a quick post on my first impressions of "Beyond Palomar" pretty soon after I finish this one…I hope you enjoyed this post. I guess, being a Lit Major, it's hard to me to write about a text I loves in anything but an academic way. I enjoy doing it, don't get me wrong, but it also takes some time to put it all together – in my head and on the page. 
I also hope to write a post on Guadalupe's experiences throughout "Human Diastrophism",as I believe that is another journey in which needs some focus, as in the story of "HD" she really does grow up and come to terms with what kind of person her mother really is (and also finding out that she has a kick – ass father and step mother! Is it clear that I think Heraclio and Carmen are just awesome?!)
Please, let me know what you thought of my review – I really hope that all reading love it. If you disagree or think I'm totally wrong – please comment, I'd love to start a discussion about the book – it's such a great one!
Till next time!  
 
***Oh, and just so I don't get sued (seriously, with my luck, it would happen!)
- All the pictures that I have posted here, plus the quotes by Ofelia and Luba are all copyright -
Hernandez, Gilbert, "Human Distrophism", Fantagraphics Books, Seattle, WA, 2007